Twelve string quartets to show mettle in Bartók World Competition
22 October 2021
The 2021 Bartók World Competition for String Quartets will commence with a ceremonial drawing of lots at 5pm on 25 October. In keeping with the tradition of the Liszt Academy's international competitions, the first ensemble to perform in the preliminaries, which begin on 26 October, will be announced then.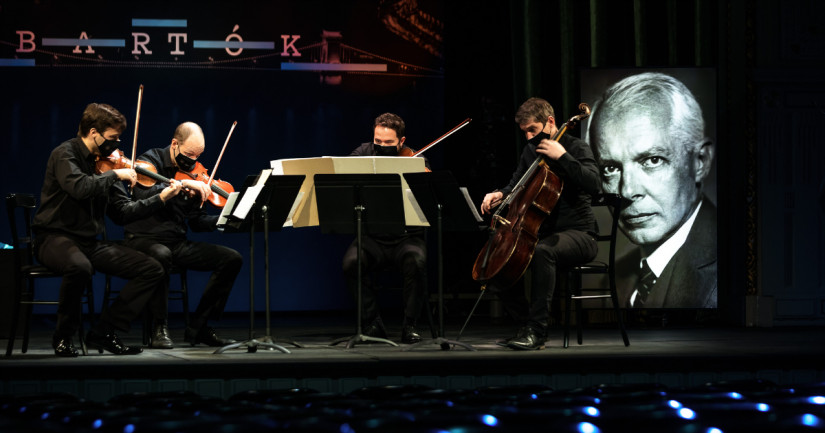 Thirty-three ensembles from all over the world had entered for the competition by the 15 June deadline. The Liszt Academy's jury decided to allow 15 of them to go through to the live rounds based on the videos submitted. In the end, due to the pandemic situation, three of them indicated that they would not be able to come to Budapest, so twelve quartets will compete in the preliminaries: the Vienna-based Chaos String Quartet; the Dior Quartet, founded at Indiana University and made up of members from Israel, Korea-Canada, Saint Lucia and the USA; the Duke String Quartet, established by four Chinese musicians; the Quartet Integra, which consists of Japanese members; the Vienna-based Javus Quartet, formed by students from the Mozarteum in Salzburg; the Korossy Quartet, made up of Hungarian Liszt Academy talents; the Modulor String Quartet, founded by four students from the Zurich Conservatory of Music; the Copenhagen-based Novo Quartet, consisting of members of the Royal Danish Academy of Music; the Risus Quartet from South Korea; the Sonoro Quartet from Belgium; the Unison Quartet, established by former and current students of The Juilliard School in New York; and the Velvet Quartet, a multinational ensemble currently based in North Rhine-Westphalia.
The preliminaries and semi-finals are free of charge. Tickets for the finals and gala are available here.
The Liszt Academy will broadcast the event live on its website and Youtube channel, as well as on the competition website, Facebook-page  and Youtube channel.