Five quartets advance to the finals of this year's Bartók World Competition
29 October 2021
The international jury judged that the string quartets competing in Thursday's semi-finals were so excellent that they allowed more formations than initially planned to take part in Saturday's final.
Five quartets – and not three as originally planned – will match their strength to win awards totalling 24 thousand euros in the final of the Liszt Academy's Bartók World Competition, which by now has grown into a globally recognized event. The ensembles that will compete in the final are: the Vienna-based Chaos String Quartet; Quartet Integra featuring Japanese musicians; the Hungarian Korossy Quartet, consisting of students of the Liszt Ferenc Academy of Music; the Sonoro Quartet of Belgium; as well as the Unison Quartet, founded by former and current students of The Juilliard School in New York.
Chaos String Quartet. Photo: Liszt Academy/Dénes Erdős
The jury decided to allow seven, instead of the initially planned six quartets, to compete in the semi-finals, where the ensembles were required to play a classical and a contemporary piece for string quartet. They selection of works that the contestants could choose from included compositions by Beethoven, Brahms, Tchaikovsky, Dvořák, Mendelssohn, Schubert, Schumann, Smetana and Verdi, as well as two award-winning works from last year's composer round of the Bartók World Competition. From the latter category, four of the seven quartets performed the work of Japanese composer Okamoto Shinsuke entitled Calligraphy for Air and Ground, while three performed Adam Brandenburg's piece called Distances.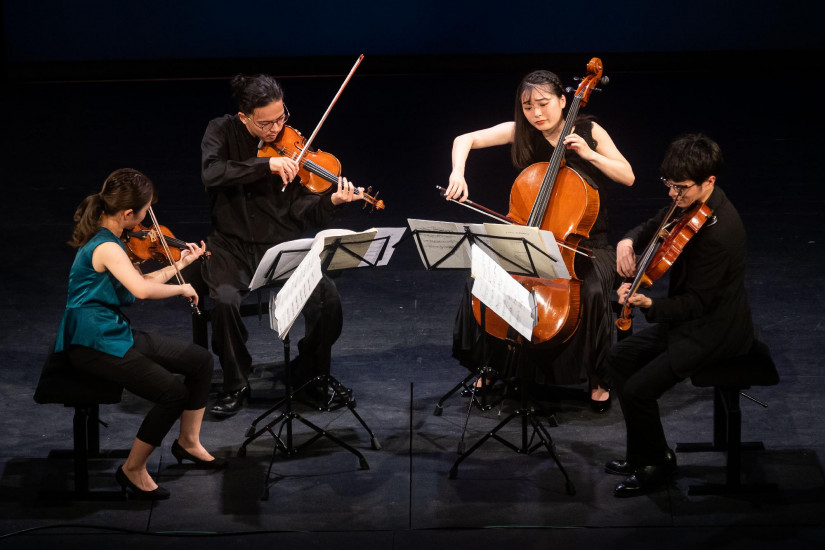 Quartet Integra. Photo: Liszt Academy/Dénes Erdős
In the final, which will take place on October 30 at 7 pm in the Solti Hall of the Liszt Academy, each quartet is required to perform Schubert's string quartet in C minor ("Quartettsatz") and a full Bartók string quartet, which may be a piece already performed in the semi-finals. Although the audience and the jury will reach their decision by the end of the evening, it is only at the gala concert to be held in the Solti Hall the next day at 7.30 pm that the winners will be revealed.
Korossy Quartet. Photo: Liszt Academy/Dénes Erdős
Tickets for the final and the gala are still available on the website and in ticket office of the Liszt Academy.
Both events will be available in high-quality, multi-camera live webcasts on the Liszt Academy's website, Facebook page and Youtube channel, as well as on the portal, Facebook page and Youtube channel of the competition. The Sunday gala evening will also be broadcast live by Bartók Radio.
Sonoro Quartet. Photo: Liszt Academy/Dénes Erdős
The 2021 Bartók World Competition, presided over by a prestigious international jury, began on Monday with the participation of 11 string quartets, whose young, talented members hail from all over the world, from Asia to North America to several countries in Europe.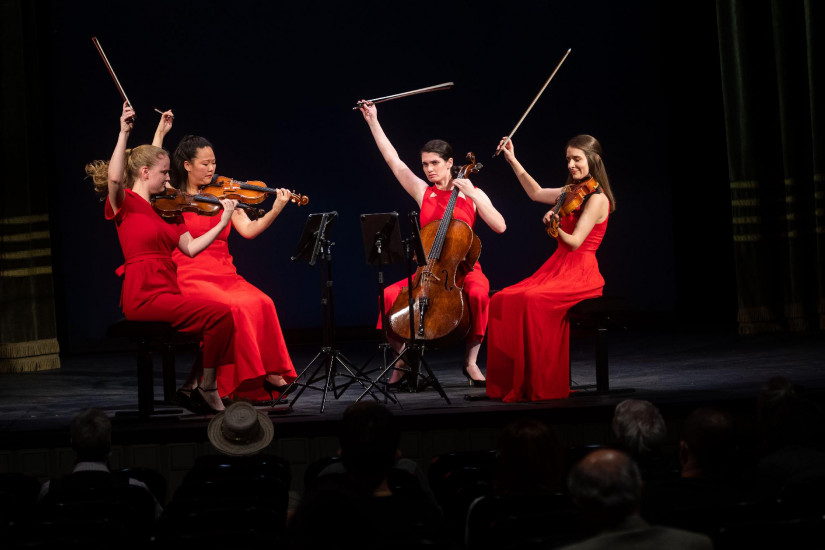 Unison Quartet. Photo: Liszt Academy/Dénes Erdős