Jury of the Bartók World Competition & Festival
Salvatore Accardo (I) - President of the Jury

Born in 1941, the first professional recital of the violinist was when he debuted with Paganini's 24 Caprices at the age of just 13. Two years later he won the International Music Competition in Geneva, and in 1958 he also claimed victory at the Paganini Competition in Genoa. His repertoire spans Baroque to contemporary music and works have been written for him by, among others, Donatoni, Xenakis and Piazzola. As a consequence of his dedication to supporting chamber music and gifted young artists, he participated in the foundation of the Walter Stauffer Academy, Cremona in 1986, and he re-founded the Orchestra da Camera Italiana made up of the best students of the Academy. In 1992, he went on to establish his own ensemble, Quartetto Accardo. Holder of numerous awards, he was presented with the Cavaliere di Gran Croce in 1982 by then president of Italy Sandro Pertini. Currently, Salvatore Accardo plays on a Guarneri del Gesù violin (ex 'Hart', 1730).
Barnabás Kelemen (H)

The Liszt Ferenc, Junior Prima, Prima and Kossuth Prize laureate violinist needs little introduction to a domestic audience. His name exploded onto the music scene with astonishing rapidity when in 2001 he achieved remarkable results at two of the most prestigious international violin competitions, in Brussels and Indianapolis, in the latter winning not only first prize but six special prizes. In 2009, he founded his string quartet, Kelemen Quartet, since when they have gone on to take top honours in venues from Melbourne to Beijing. He is not only involved in numerous recordings and world tours but is also currently a professor at the Liszt Ferenc Academy of Music and the Hochschule für Musik und Tanz in Cologne. Barnabás Kelemen plays on an ex-Dénes Kovács Guarneri del Gesù (1742) on loan from the Hungarian State.
Qian Zhou (SG)

"A significant world class artist." This is what Philip Roth wrote in the columns of The Strad magazine about the Hangzhou-born violinist who has also built a considerable reputation as a teacher. Qian Zhou had her early training at the Shanghai Conservatory before completing her studies as a student of Berl Senofsky at the Peabody Conservatory in Baltimore. At the age of only 18, Qian Zhou received instant world-wide recognition with her brilliant triumph at the 1987 Marguerite Long-Jacques Thibaud Competition in Paris, breaking all precedents in the competition's 50-year history by winning the First Grand Prize and all five major prizes. These days she is one of the most sought-after violinists and a regular guest of concert venues in Europe, the United States, Asia and Africa. As the founding Head of Strings at the Yong Siew Toh Conservatory of Music, she has combined her very active performance career with a passion for teaching. With her students already achieving considerable international success, she is in much demand for her masterclasses. Qian Zhou plays a 1757 J.B. Guadagnini, generously loaned by Mr and Mrs Rin Kei Mei.
Takashi Shimizu (J)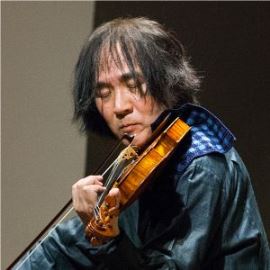 Takashi Shimizu began learning the violin at the age of six and barely four years later, having won a youth competition, he debuted with the NKH Symphony Orchestra. He came into close contact with the Russian school of violin through Yuri Yankelevich, while he pursued higher education studies at the University of Southern California under Jascha Heifetz. He refined his chamber music skills in London with Yfrah Neaman, who introduced him to such musical giants as Yehudi Menuhin and Nathan Milstein. He has travelled extensively through Europe, Asia and the United States as winner of countless international competitions. Takashi Shimizu teaches at the Tokyo University of the Arts and the Toho School of Music. He has held master classes in 12 countries and been a jury member at 15 international competitions.
Joel Smirnoff (USA)

The violinist-conductor was a student of Chicago University during his high school years before going on to The Juilliard School. He was a member of Juilliard String Quartet between 1986-2008, for which he received a Lifetime Grammy Award in 2011. He started teaching chamber music and violin at his alma mater in 1986, where he was head of the Violin Department for 16 years. Encouraged by Seiji Ozawa, he also started conducting, with his official debut concert at the head of San Francisco Symphony. Smirnoff has gained a considerable reputation not only as a classical musician but jazz musician, too: he participated in the Bennett Sings Ellington Hot & Cool Grammy-winning album, and he regularly plays with American Jazz Orchestra as well as members of the Billy Taylor Trio. In 2008, he was appointed President of the Cleveland Institute of Music, and he has taken part in the international violin competitions of Naumburg and Indianapolis as a member of the jury.
Vilmos Szabadi (H)

One of the most exceptionally talented violinists of our day, Vilmos Szabadi graduated from the Liszt Academy in 1983, then went on to postgraduate studies with Ruggero Ricci, Sándor Végh and Loránd Fenyves. In addition to many competition results, one of the most decisive appearances in his career was in 1988 when, at the invitation of György Solti and London Philharmonic Orchestra, he played Bartók's Violin Concerto No. 2 during the Bartók Festival at the Royal Festival Hall in London. He has made over 40 recordings, he was a double prize winner at Cannes for albums featuring Dohnányi's violin concertos and Bartók's early sonatas, and in 1999 he was presented with a Hungaroton Prize. Vilmos Szabadi has been a professor of the Liszt Academy since 1984, where he is head of the Violin Department. His current instrument is a masterwork from Cremona, a 1778 Laurentius Storioni from the collection of the Hungarian State.
Tibor Tallián (H)

The music historian, winner of the Erkel Ferenc Prize, is one of the most eminent researchers of the life and music of Béla Bartók, the history of 19-20th century Hungarian music and institutions of music, as well as the history of international and Hungarian opera and songs. He first became involved with studying the career of Béla Bartók more than 40 years ago. His first major work was a Bartók biography published in 1981 on the centenary of the birth of the composer; this volume was republished in an extended and reedited form in 2016. Tibor Tallián is professor emeritus of the Liszt Academy, a corresponding member of the Hungarian Academy of Sciences, researcher of the Institute of Musicology of the Humanities Research Centre, Hungarian Academy of Sciences, of which Institute he has been director for many years. His work has been acknowledged on many occasions, most recently with the Academy Prize in 2016 and the Széchenyi Prize in 2017.
Krzysztof Węgrzyn (D)

Founder and artistic director of the Joseph Joachim International Violin Competition Hannover, Krzysztof Węgrzyn was born in Gdansk in Poland and he conducted his studies in Warsaw, Freiburg and London under Wolfgang Marschner, Yfrah Neaman and Dorothy DeLay. As winner of numerous international competitions, he has travelled the world, while his name is associated with several radio, television and album recordings. His extensive repertoire includes works by Lutosławski, Ligeti, Nono, Schnittke, Pärt and Penderecki. For many years Węgrzyn was concertmaster of the Niedersächsisches Staatsorchester Hannover. From 1993, he has taught at the University of Music, Drama and Media, Hanover, and he regularly holds master classes in Europe, Asia and the United States. In 2004, he was awarded the Musikpreis des Landes Niedersachsen for his contributions to music. Krzysztof Węgrzyn plays on a violin made by master Venetian luthier Domenico Montagnana.
Ivan Ženatý (USA)

The career of one of the best-known Czech violinists of our day started with a podium placing at the Tchaikovsky International Violin Competition before he went on to win first prize at the Prague Spring Competition. During his career he has appeared in London, Berlin, at the Concertgebouw in Amsterdam, and in New York. Studied at the Tchaikovsky Conservatory in Moscow and his personal relationship with Nathan Milstein had the greatest impact on his technical approach to the violin. The great Czech musical tradition was passed on to Ivan Zenaty through his mentor Josef Suk. He plays on over 40 CDs, including recordings of the complete violin oeuvres of Bach and Mendelssohn. In addition to his active performance career he is a passionate teacher as well: after teaching at the Hochschule fur Musik in Dresden he was invited to join the violin faculty of the Cleveland Institute of Music in 2012, and he also regularly lectures at the Meadowmount School of Music Summer Academy. Thanks to the Harmony Foundation of New York, Ivan Zenaty plays a rare Giuseppe Guarneri del Gesù violin made in 1740.
Jury of the online Qualifying Round
Géza Kapás, artist teacher of the Strings Department of Liszt Academy, university docent, Péter Kováts, artist teacher of the Chamber Music Department of Liszt Academy and Vilmos Szabadi violinist, senior lecturer at the Strings Department of Liszt Academy.