Violin 2017 Summary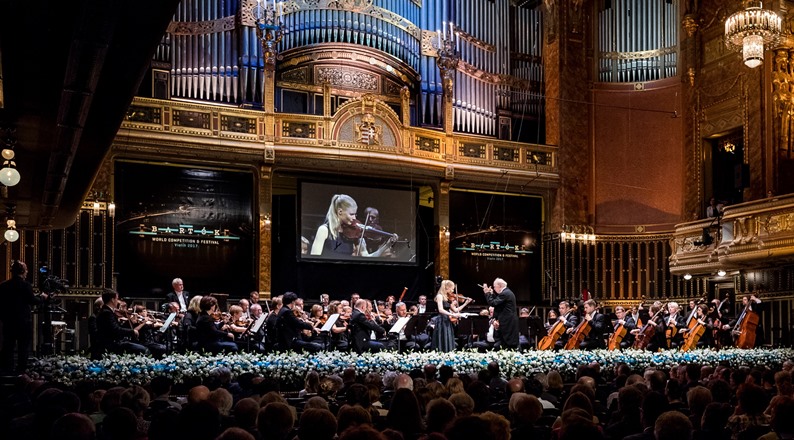 Cosima Soulez-Larivière (Photo: Liszt Academy / Zoltán Adrián)

The Bartók World Competition and Festival was launched in 2017 by the Liszt Academy. In the first year, 44 violinists applied, seven of whom – among them two Hungarians, Ágnes Langer and Gábor Homoki – were shortlisted for the semi-final round, and three were qualified for the Grand Final.
French-Dutch violinist, Cosima Soulez-Larivière won the 1st Bartók World Competition and Festival, the Hungarian contestant, Ágnes Langer won 3rd prize. The award ceremony was held at the Liszt Academy at the Gala Concert on 17 September, 2017.
At the Grand Final, on the day preceding the Gala, the three finalists - Cosima Soulez-Larivière, Ágnes Langer, and Takagi Ririko from Japan  - were competing against each other. The jury came to the decision that the 22.000 EUR first prize would go to Cosima Soulez-Larivière, the second prize – and 14.000 EUR would be won by Takagi Ririko, while Ágnes Langer would come third, and won 8.000 EUR. The members of the international jury, chaired by the globally acclaimed violinist Salvatore Accardo, were Vilmos Szabadi and Barnabás Kelemen from Hungary, Qian Zhou from China, Takashi Shimizu from Japan, Joel Smirnoff from the USA, Krzysztof Wegrzyn from Germany and Ivan Ženatý from the USA, as well as the Hungarian musicologist and Bartók-expert, Dr Tibor Tallián.
At the Gala Concert, Dr Andrea Vigh, President of the Liszt Academy proudly expressed that a competition had been established that was worthy of Bartók and his legacy and was fit to become a long-term tradition.
Also various special prizes were awarded: Cosima Soulez-Larivière was invited to the 2018 Budapest Spring Festival, to the Cziffra Festival, to the Singapore Violin Festival and to the Festival Academy Budapest founded by Barnabás Kelemen and Katalin Kokas, as well as to collaborate with the Győr Philharmonic Orchestra and the Franz Liszt Chamber Orchestra. Takagi Ririko was offered a concert opportunity by Müpa, the Anima Musicae Chamber Orchestra and the Szolnok Symphony Orchestra. Ágnes Langer was awarded the possibility to be featured at the 2018 Auer Festival in Veszprém and take to the stage in the Marble Hall of the Hungarian Radio, collaborate with the MÁV Symphony Orchestra as a soloist, the Music Ensembles of the Hungarian Radio and with the Zugló Philharmonic Orchestra and was given a highly valuable package thanks to Papageno Consulting. Contestants from former rounds were also awarded.
The Bartók World Competition and Festival held in honour of the composer's 135th birthday was funded by the Ministry of Human Resources. Its Chief Patrons of were the President of the Hungarian Republic, János Áder and Lady Valerie Solti, who also attended the award ceremony and Gala Concert, what was aired online on the websites of Bartók Radio and the website of the Liszt Academy.