András Keller: you go on a trip each time you perform a piece of music
2 October 2023
At the Bartók World Competition, the jury was looking for what a young artist could do to capture our hearts, says world-renowned violinist-conductor András Keller, with whom we talked about this year's event, the problems and challenges of a competition, and more.
How did you find the field at this year's Bartók World Competition for Violinists at the Liszt Academy?
Meeting young artists who have a really deep and sovereign message creates a real dividing line between the competitors. To use a sporting analogy: the top two or three centimetres are only cleared by the best. The artistic standard of this year's Bartók World Competition was extremely high, but the organisation and the atmosphere were also great.
What were your criteria for judging? Can you separate your artistic self from the "ear" of the concert-goer?
It's useful if the jury is not always in total agreement and if the jurors look at the entries from different angles because that's how you get the most authentic result, which you can safely say is in some way in line with the audience's opinion. For my part, I listen to the contestants not only as a professional but also as a concert-goer. Even if a musical phrase comes out less than technically perfect, the overall impression of the contestant is still crucial, and personal appeal can be great - these are the very factors that make audiences go to a concert of a mature artist. Sometimes a contestant would use more popular, more spectacular means of expression, but for the majority, this was not the case. A performer can only bring a piece to life if they have not only put in serious preparation and are able to convey the spirit of the composer and the work, but also draws on his or her own personality.
Jury President Daniel Phillips repeatedly stressed the subjective nature of the jury's work. How difficult is it to judge on the basis of subjective criteria and feelings?
In the past, I stopped judging for a while because I perceived irresolvable contradictions between the individually valid but mutually exclusive views of the members. All international panels are made up of great and dedicated artists, so we are always determined to represent the true talents who may become major artists in the future. Then there are many times when a contestant comes along who is technically perfect, yet lacks a captivating personality. Later, another comes along who delivers inspired, sovereign performances, but makes mistakes here and there. In a prestigious competition, this is an almost insoluble dilemma for the jury, even if we recognise that art is not a sporting competition where you must clear the bar or jump a distance or else you fail.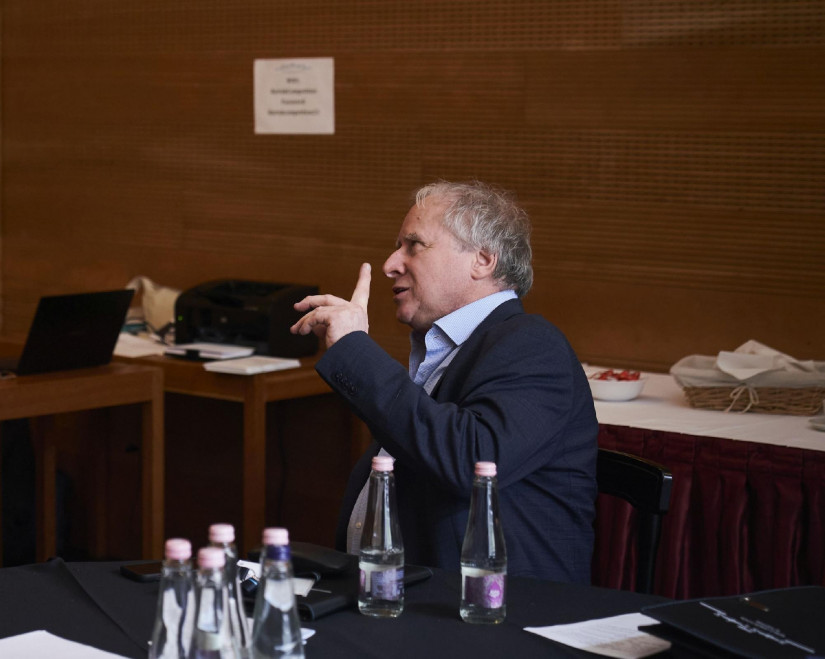 photo: Liszt Academy/Gábor Valuska
How is it possible to have multiple readings of a single work at the same time?
Listen to Bartók's own recordings of Allegro Barbaro from 1929 and 1935 and you will hear that they are completely different. It would be a big problem if there were only one way to perform a piece. There are works that I have performed hundreds of times and I discover something new in them even today. In addition, the performer's emotional state of the moment can influence the way a piece is played: a little emphasis in a different place, and the whole interpretation takes a different direction, changing its content, its message and its length. You go on a trip each time you perform a piece. That's why we go to hear an artist.
Is it true to say that a complex experience of technical skill, personality, and emotional reflection of the moment is the secret and the key to an authentic performance?
It's a fact that when a performer is able to authentically convey a piece in a different way – even though I know it well and have a definitive opinion of it -, then they can convince me of their own version. Artistic magic can take many forms, but there's always that one single moment that changes everything, that one-tenth of a second that makes you say, well, that's why it was good. That's what we were looking for in the competition: what it is that a young artist can capture your heart with.
What are some of the memorable moments from the contestants' performances?
The winner, Lilia Pocitari, is a great artist, not just an excellent violinist. In each performance, she gave her own opinion, but always stayed within the spirit of the piece. She played with fantastic consciousness, generosity, flexibility, and her persona as an instrumentalist and artist was extremely engaging, with no hint of artificiality. Her music was natural and simple, yet full of heart, substance, energy, and emotion. This is very rare. We discovered in her a persuasive, outstanding artist. Another similar experience was hearing Gáspár Kelemen, who won the Bartók special prize and whose development I have been following for a long time. His engaging personality combines with professional skill: I see him as one of the significant artists of the coming years. Third prize winner Maya Alexandra Kasprzak also played with heart and soul, I see in her the humility and talent that can help her go far in life. The other contestants, whom I have not mentioned here, also gave great performances.
Do you think that the reason Lilia Pocitari understands Bartók's music, which is rooted in the folk songs of the Carpathian Basin and its surroundings, is because she herself, as a Moldavian national, comes from the region?
Talent is not tied to a particular place, yet it could be a valid hypothesis. But we have no monopoly on Bartók's music because it belongs to everyone. It is important for us, Hungarians to embrace this principle, so it is a particular pleasure that in the competition, almost a hundred applicants from 26 countries tried hard to understand Bartók when they were working on his works. It's really wonderful that Bartók's music has its roots in folk songs. He built his art on an ancient tradition and captured the essence of music-making as a natural phenomenon. Unfortunately, this is also the reason why many interpret his works in a somewhat wild, 'allegro barbaro' style, and why some competitors went to extremes in their performances. I am convinced that this is a mistake.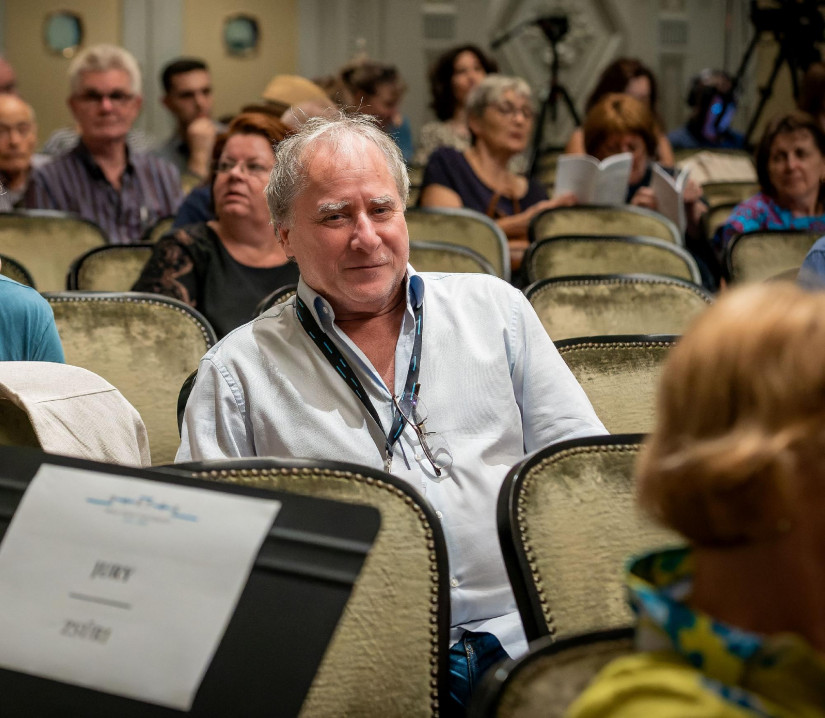 photo:Liszt Academy/Gábor Valuska
You already judged the 2021 round for string quartets: would you say that the competition has grown up to its task of promoting Bartók's music throughout the world?
I am proud of this competition and grateful to have been on the jury on several occasions. But it has not yet achieved its goal, which is to see that Bartók's music is played and understood in equal measure internationally. Bartók must be dealt with in the same way as Mozart or Beethoven, with the same humility and approach. When this happens, the true beauty of Bartók's works will be revealed. If a musician approaches him bombastically or with a preconceived notion, they may misinterpret him. The contestants in this event have certainly studied Bartók a lot, so they can have a considerable influence on future generations. It is clear that further rounds of this competition are needed to produce a more pronounced effect. The alternation of instrumental and composer competitions is an unparalleled structure and can contribute effectively to achieving this artistic goal.
What is the role of music competitions today, in the 21st century?
I believe that they are very necessary, despite the inevitably subjective opinions of the judges: the truth is not always or not immediately apparent, but it will be revealed sooner or later. If a contestant has not achieved what they set out to do, hopefully, it will spur them on to do more and better in the future. The work invested will definitely pay off. The question is, whether a competitor wants to become victory-focused or they want to communicate the art of music. There were some contestants in the first round who did not make it to the second, but I made a note of them because I'm sure they'll turn up somewhere later. Of course, there are artists with personalities that are not suited to competing because they are too nervous: here it is not simply the audience that judges their performance and rewards them with applause, but trained professionals who watch their every move. In this competition, I found that the competitors had excellent nerves.
What do you think about the fact that the Liszt Academy, as an institution of higher musical education, organises international competitions such as the Bartók World Competition and the Éva Marton International Singing Competition?
It is the best possible place for these events! It is only natural and necessary that we have them here as both competitions work very well, enhance Hungary's reputation,  and contribute to the international prestige of the Liszt Academy.
Can these events have an effect on education?
Yes, and I hope that more and more young Hungarians will compete in the coming years. Now only 3 of the 32 violinists who started the live rounds were Hungarian. Competitions like this have a longer-term perspective of 10 to 15 years.