Unsuk Chin (ROK, D)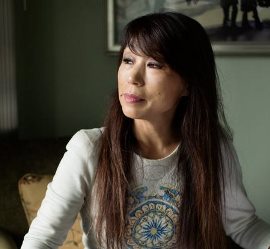 Unsuk Chin was born in Seoul, studied with Ligeti in Hamburg, and is now resident in Berlin. She is a composer-in-residence with Seoul Philharmonic Orchestra and Artistic Director of its Contemporary Music Series since 2006, also the Artistic Director of Philharmonic Orchestra's Music of Today series since 2011.
Her output features both electronic and acoustic scores, her music is modern in language, but lyrical and non-doctrinaire in communicative power. Her works performed worldwide by major orchestras, contemporary music ensembles and interpreters like Bavarian State Opera, Berlin Philharmonic, BBC Symphony, Chicago Symphony, Los Angeles Philharmonic, London Philharmonic, New York Philharmonic, Radio France Philharmonic, Montreal Symphony, Deutsches Symphonie-Orchester Berlin and others. She is championed by conductors Kent Nagano, Esa-Pekka Salonen, Gustavo Dudamel, Simon Rattle, Markus Stenz, Peter Eötvös, David Robertson, Myung-Whun Chung and George Benjamin, and violinists Christian Tetzlaff, Viviane Hagner and Renaud Capuçon  
Her portrait CD-s released on Deutsche Grammophon, Kairos and Analekta and Alice in Wonderland opera available on Unitel DVD.
She won the 2004 Grawemeyer Award for her Violin Concerto, the 2005 Arnold Schoenberg prize, the 2010 Prince Pierre Foundation Music Award and the 2017 Wihuri Sibelius Prize.